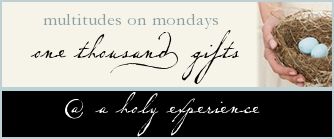 This past week has been filled with many grace-filled moments as well as many tough things to ride through, but as always He is with me.. that will always be at the top of any thankful list I create.
191. So much love shown on Mother's Day.
192. A wonderful and generous sister's heart.
193. God's constant life lessons.
194. Clothes flapping in the sunshine.
195. Moments of clarity from the Holy Spirit.
196. His awesome love and tender forgiveness.
197. That His Hand is always there, leading and guiding.
198. My daughter being home from college for summer!
199. Wonderful heart to heart moments and girl talk!
200. That I am a SAHM and can care for the sick members of my family today!
A short time ago I wrote a post where I shared a video by
Josh Groban.
In that post I talked a bit about the darkness of depression and self-mutilation, bulimia etc. When I wrote that post I had no idea how close to home a dark demon was pressing. I learned recently that when I had shared this post and video with someone close to me, she had been dancing on the abyss, pressed by this unholy presence.
I thank the Holy Spirit for the inspiration, for guiding and leading me to places I do not plan to go. I thank Him for the Grace to be obedient and I pray that I will always obey His promptings. By saying yes to the prompting of His Spirit we never know what good works He is able to accomplish.
Praise God for He is Mighty and Awesome!
I pray that you will have the grace to be obedient to His promptings and that you will shine brightly for Jesus!