I'm always amazed at how God somehow steers my little boat right where it needs to be at the right time!
This weekend I stepped on the scale and discovered that, not only have I put back on the weight I'd lost last year (it was slowly creeping up on me) but I've also put on an extra few pounds as well! I was so horrified and depressed... well, who am I kidding.. I cried like a baby. It really shouldn't have been a surprise.. I've been seeing the tyres on my stomach coming back and my chin is expecting.. twins it would seem ;-) I guess I was living in denial. After my good cry and some loving supportive words from my husband, I agreed with him that we both need to get the weight off and start eating healthily. Where to start though?
Well, I opened up my blog tonight to find the perfect solution. I'm sure most of you know Candace Cameron (DJ on Full House) and many of you may also know of Darlene Schacht (
Time Warp Wife
), she's an amazing writer and I learn so much from her. I'm sure you're aware that they teamed up to write a book "Reshaping It All" that hit the New York Times Bestselling List a couple of months ago.
Well, Darlene is having a 65 Day Reshaping It All Challenge. Check it out
here
. The Challenge starts tomorrow so link up and join in.. all we have to lose is pounds and inches ;-)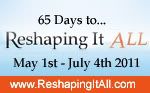 Even better news a couple of bloggers are giving away free copies. Gina of
Chats With An Old Lady
is giving away three copies and Bethany at
A Big Red Pot
is also giving one copy away. So head on over there and see if you can win yourself a copy. Or you can order one
here
.
While it isn't necessary to own a copy to participate, the book is chock full of great tips, recipes and you wont just be finding out how to feed your body properly but there's a good bit of food for the soul as well.
I'm really excited to participate and I just KNOW something amazing is going to happen. Its going to be great to have accountability and know that we're doing this with so many other people. Darlene has promised some amazing stuff (maybe even some input from Candace!) Wont you join us?
Love & Blessings