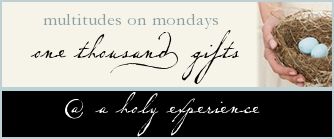 I've been absent from blogdom for a few days. We had a long weekend as well in celebration of the arrival to our country of the East Indians in the 19th century. Its difficult to write when everyone's at home and I also have a policy about being on the internet when the family is all here. Its made me late for a lot of my usual link-ups and I have a lot of reading to catch up on too!
Well, do any of you know what happens when the house is full of a gaggle of girls in different stages of development and hormonal happenings? There have been moments of complete chaos, bickering, noise, endless music and television, but even within this time, there have been so many moments of grace.
I recently overheard another mother complaining that her children don't want to do things with her anymore. Her teens would rather go to the movies with friends and her nine year old is following suit. This frazzled momma's glad to have some normalcy to my day with everyone back out to school and work, but mostly grateful to God for being able to experience those frenetic, high energy moments with teenagers/young women who still hang around their father and I and don't put their friends first and who are also willing to gallop round the house playing 'hide and seek' and other games with their little sister.
221. Chats with my eldest, new understandings of each other.
222. Her ability to listen and reverse the roles to give me some well-needed support.
223. Joy in seeing my words over the years have taken some root, having those same words given back to me.
224. For a little bird in a nest outside the window, who reminds me daily of the covenant God has with me.
225. That no matter how bleak things may look, I can trust in Him and His promises.
226. A smart little girl who keeps me on my toes
227. Grace that turns bickering into dialogue.
228. Grace that heals and transforms each day.
229. Grace that stills my wayward tongue.
230. Heart-to-hearts, hugs and healing.
231. Family movie night.. binging on junk food and other 'bad for you' stuff.
232. Long weekend at home.
233. Sleeping in a few mornings!
234. Family trip to the zoo with a VERY enthusiastic 4 year old!
235. God's beautiful creation, what grace there is in nature.
236. Family game time.. silliness and raucous laughter filling the house.
237. Splurging for a meal out with the girls.
238. For my husband who opens his heart to me more and more each day.
239. That love is never limited to the smallness of our human nature, but rises to the heights God intends for it to go.
240. My daughter, who went to church with me today with a grateful heart to God for seeing her through her major exams.
As you count your own blessings down through the days, I hope that you will find the grace to be grateful for everything His hand designs for you.
.