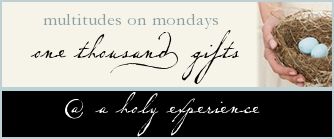 Counting my blessings as I journey.. time speeding by... trials come and go.. hearts break and heal.. but always..
His Grace is Sufficient
171. That "weeping may endure for the night, but JOY cometh in the morning"!
172. That His Grace is renewed each morning.
173. That He inspires me every day.
174. For Grace that gives courage to go where He leads.
175. For the constant work He does on our hearts.
176. That He never lets go...I'm firmly in His grasp.
177. For transformation and healing that's a constant work in progress.
178. For love.. faithful, constant and unconditional.
179. For wonderful chats with daughters.
180. For caring relatives who I can depend on.
181. For the wonderful feeling of knowing I've helped someone.
182. For great advice and wonderful encouragement.
183. For convicting moments before the Lord.
184. That I am constantly amazed by His work in my life.
185. For 'splurging' with my girls.
186. Laughter and giggles and splashing water.
187. Uplifted spirits, joy in my heart.
188. New direction, Grace poured out.
189. Cuddling moments with my youngest.
and most of all..
190. My motherhood, my vocation.
HAPPY MOTHER'S DAY!! God bless you all!
Also linked to:
.