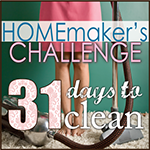 I'm a couple of days behind, but here is my mission statement.
I'm a SAHM.. its all I've ever wanted to be.. God has blessed my desire and given me a lovely home and family. I want my home to be a happy, peaceful place. I want it to be clean and beautiful because I want it to reflect the beauty and harmony that my vocation is supposed to be. Since God is the center of my life, my marriage and my motherhood, my mission statement is actually a prayer:
Please help me to remember always
That I am the heart of my home
Let my homemaking be a reflection of
Your great love and provision for me
Let my home radiate your joy and peace
Help me to use my time, talent and energy
To create an atmosphere in my home
That will nurture and encourage those I love
May each meal I prepare, each chore that I do
Be done with love and in a spirit of servitude
May my home be a place of sunshine
Let your light radiate throughout
Bless the work of my hands, Lord
And may all I do.. honour You
"Oh Jesus, my Love, my vocation.. at last I have found it! My vocation is LOVE"
" Love proves itself by deeds, so how am I to show my love? Great deeds are forbidden me. The only way I can prove my love is by scattering flowers and these flowers are every little sacrifice, every glance and word, and the doing of the least actions for love."
I attended Mass this morning and Father quoted St John of the Cross "In the evening of life we will be judged by our love" This quotation is one that St Therese based her life on. What an awesome confirmation for me of what was placed on my heart as I searched for inspiration!
If you would like to learn more about St Therese of Lisieux , read this.