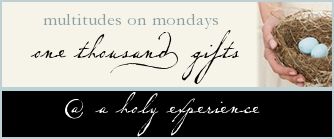 71. For a dead car battery that allowed me a whole day at home to offer to God.
72. Bonding time with each of my daughters.
73. Hot sunshine and balmy breezes drying my clothes on the line.
74. Walking in the park with my youngest.
77. An extra hour to lie in and have our youngest daughter romp on us.
78. For God's awesome and marvelous works in the lives of others and myself.
79. For being able to share in a friend's joyful thanksgiving.
80. For bittersweet memories and the grace of a new dawn.
81. For loving, healing words from my husband.
82. For the sweet security of strong arms to hold me and magic kisses that kiss it better.
83. For Grace that allows me to weep tears of healing, tears of release.
84. That sweet word "momma" from the lips of my college-gone daughter.
85. For Grace that turned bitter, angry words into loving ones.
86. For Inspiration and Counsel from the Holy Spirit.
87. For sweet 'I love you's' from my four year old.. fierce hugs and fighting for the middle spot.
88. For a darling husband who's willing to go out, even though he's tired, on a last-minute shopping errand.
89. For sales that allow me to buy shoes for my youngest without breaking my budget... too much.;-)
90. For the excitement of a four year old on a school trip to the zoo! (hope I survive it lol!)
I have to stick this one in here: For my beloved husband who played around with my blog to try to fix the little 'bugs' in it and left a special little surprise (my very own button!) and who supports me and encourages me. Thank you my darling!
Heavenly Father, I give you all my praise and thanksgiving. You bless me with so many little gifts each and every day. Thank you for bringing me to a place where I am no longer spiritually blind to them. May I always appreciate, acknowledge and be grateful to You.
Tomorrow, I go to the throne of God on behalf of my friends and relatives. If you would like me to add your name or the name of a loved one to my prayer list, please leave a comment or you can email me at lo.supersunshine@gmail.com.



This post linked to: