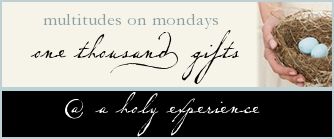 Oh Beautiful Saviour, how much I have to be grateful for. As I count my blessings of the past week I can see Your loving hand was there, supporting and guiding. When I was at my weakest, driest and lowest.. you never left my side. You have a plan for my life.. it is your masterpiece.. as your brush strokes add colour and substance to my life, I thank you for Your great love that endures forever.
151. Beautiful church services.
152. My 4 year old singing her heart out (at the top of her lungs) in church.
153. That she slept through the long liturgical part of Mass so I could focus on the Word.
154. How she rang the life out of her bell at the end of
Mass
:-)
155. For loving, encouraging words.
156. For strong shoulders to lean on, cry on, rest on.
157. For family fellowship.
158. Wonderful food.
159. Visual reminders of what Jesus has done for me.
160 That He shoulders my burdens and carries me when I'm weak.
161. For Grace that keeps my faith alive and well.
162. That He comes after me, the lost sheep, in the wilderness into which I've wandered and lovingly leads me home.
163. For words which flow from a heart which was under siege.
164. For love which heals and restores.
165. For a return to routine and restoration of my 'quiet time' with the Lord.
166. For the awesome feeling of being in His presence.
167. For that sense of "coming home" when He embraces me.
168. For "living water" which quenches my thirst.
169. For His leading me to new places and people I share a common bond with.
170. For sharing time with my husband playing a computer game (there's a first time for everything!)
Lynn asked that we write about Hope this week. All I can say is that my hope rests in the Lord. He is all I have to hold on to sometimes. I rest secure in the knowledge that He never leaves my side and that no matter what turbulent waters my boat may sail into..
He's my anchor and my compass..
I know He'll lead me safely to where He wants my little boat to be.
That means for me.. that I can hope for great things from Him and trust that He wont fail me
.
For me, Hope is wrapped up in a great big bouquet with Faith and Trust. They're like the leaves of the shamrock.. you cant have one without the other.
Counting my blessings daily gives me great reason to hope in Him as I see the myriad of ways His hand is in my life.
I
hope
you have good reason to count your blessings too and may you
shine brightly for Jesus! ;)