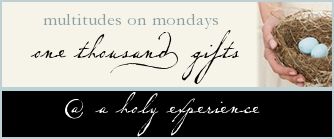 This post was originally written for Thankful Thursday
Its Thankful Thursday again.. how quickly time passes. Soon my daughter will be home for her summer break from university.. I can hardly wait. God has been so gracious and loving this past week. Here's some of what I'm grateful to him for:
91. Chats with a sister.
92. Words that encourage.
93. Precious prayer time with my husband.
94. Telephone calls that bring good news.
95. A four year old's wild imagination!
96. Grace that saves us from disaster.
97. God's unfailing love and protection.
98. Faith that sees us through trials.
99. A daughter's happy news.
100. Grace that provides strength
101. Wisdom from the Holy Spirit.
102. Answers from Heaven.
103. Happy giggles filling the house.
104. Leftovers... a sign of God's great provision.
105. Leftovers... so I don't have to cook ;-)
106. Pleasure found in simple things.
107. Grace-filled times before my Saviour.
108. Memories that reaffirm me.
109. Meeting new friends.
110. Generous, loving relatives.
I know that the next week will fly by as well. Counting every blessing in between and mostly grateful for His love.
God bless you and empower you to
shine brightly for Jesus!