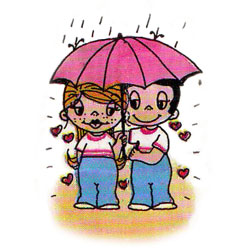 Love is...
loving the rainy days as much as the sunny ones.
Love is.
.. for better or for worse, in sickness and in health, in richness or in poverty.
Love is.
..sharing the joys and caring in the sorrows... embracing the whole.
Love is
... swallowing your pride in big whole chunks.. choking back the 'self'.
Love is
...laying yourself bare, faults and all, child-like and trusting and hoping for grace.
Love is
... taking a risk, breathless with wonder at how vulnerable you are.
Love is
.. bending and doing this little dance of give and take..maybe giving more and taking less.
Love is
.. taking another's burden upon yourself, even if yours is heavy enough.
Love is
... persevering, tenacious.. holding on by a thread, hoping the other threads get caught up before it can break.
Love is
.. the breaking of hearts that mend into purer vessels with greater capacity to love and to give.
Love is
...pouring out yourself.. all of yourself, running rivulets of sacrificial love into the streams of others.
Love is
... giving grace, forgiveness, loving what seems to be unlovable.
Love is
...when another's life becomes more important than your own.
Love is
... laying down your own hopes and dreams so theirs can be fulfilled.
Love is
...a gift.. straight from the Father's Hands.
Love is
...emulating He who did all these things...
for us.
.. the broken, imperfect, ungrateful.
Today I want to celebrate what love truly is:
My friend
Kristin
who has a heart for the homeless and, not only is part of a blanket ministry, but is working on telling their stories to the world.
My friend
Tami
.. sitting at her daughter's hospital bedside, pouring out her love, praying and willing her to be well. Setting aside her own physical challenges to give to her loved one.
Women
with a heart for adopting the orphaned or unwanted.
An
outpouring of love
and support from the Christian Community to a young mother.
Women who grieve reaching out to
comfort each other.
A blogger friend
taking a moment to reach out to the elderly.
Young couples who have to separate so he can do
his duty to his country
.
Showing kindness
and compassion to another young mom. This same person has an exceptional heart for missionary work.
To all these women, ordinary moms who serve an extra-ordinary God who gives them the grace to be exceptional and to all of you my blogger friends..each unique in her own way.. I wish you a day filled with love, laughter and peace.
Shine brightly for Jesus!