Oh, I just popped over to Ann's to pick up the button and link up with her Multitudes on Mondays. She speaks to my heart today. When you feel like giving up, give up the things that weigh you down. Funny, just this morning my husband and I had this conversation...
It feels like we're being crushed by our trials, being overwhelmed by the bills and the illness and the hard choices to be made and the NEED. All we really need is Him, all we really need to look at is Him. Keep our eyes focused up and not trained down.. down where all the things that want to
crush us lie
.
When we can keep our vision focused on Him alone, then we can see the multitude of blessings that lie in between, that cover over, that lift us out of all that weighs us down.
Please pop over to Ann's and be lifted out of your own crushing burdens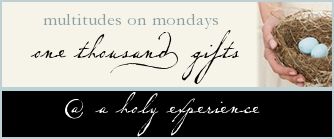 261. The sound of rain falling on the roof.
262. Snuggling up under my quilt with the a/c on high.
263. Shopping with my daughter for a graduation dress.
264. That we actually got one without too many arguments!
265. Prayer time with my husband.
266. A 'Student of the Week' crown proudly worn by my four year old.
267. Toilet Paper Wars!
268. Extra strength Tylenol.
269. For my husband's healing prayers.
270. For the merciful love of my Saviour.. the Divine Physician
271. A spontaneous day out with hubby and the girls.
272. Indulging in a caramel latte with my husband.
273. A nice foot rub after walking for four hours.
274. For a Swiffer Wet Jet.
275. For extra helping hands to clean up the mess.
278. For beautiful, inspiring words from others.
279. For the birds calling out their praises to God early in the morning, reminding me to do the same
280. For the stripping and pruning and knowing His plan will exceed my own expectations.